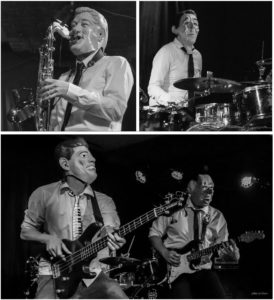 We are happy to introduce the surf rock part of our lineup. This year the Italian Fusion Festival presents the Pointbreak!
Pointbreak was conceived somewhere in the strange corridors of Stefano's brain in Dublin, in the autumn of 2014. A brand new Surf Rock group paddled out into the world and took the drop.
Now, the questions are: Why Surf Rock? And what the hell is this sound?
Surf Rock is basically instrumental Rock'n'Roll – electric guitars drenched in reverb, cranked through valve amps, with a distinctive beat that has gotten people moving since the 50's. Think Dick Dale, The Ventures and Link Wray. You know it, you just might not know that you know it. The focal instrument really is guitar, and that's where the inimitable Stefano comes in. Once Gavan came on board on drums, things began moving. Adding Pablo on sax and theremin and Mark on bass, and Pointbreak really started cooking.
After the band was formed, the first gig came a few months later at the Dublin Rock'n'Roll Festival. People seemed to enjoy that twanging sound, reminiscent of Tarantino and Sergio Leone's movies. This was only another confirmation that playing surf rock was actually a brilliant idea.
After that, the band was eager to play that music for as much people as possible and they did. Fibber Magees became their second home and they've headlined at Whelan's, Sin É, Gypsy Rose, Sweeney's. How can you resist THE beat after all?!
It didn't take long until Pointbreak started writing their own songs and re-arranging some famous tunes as their own. All this material has shaped out as an EP, "Get Wet!", already available on all major platforms.
What about Pointbreak shows? Their live show is a raucous blend of soaking wet, twangy Fender guitars, screaming sax and a pulsating rhythm on the drums that will have everybody up and dancing. The setlist is a mix of classic surf rock tunes from the '60s (Walk don't run, Surf Rider, Miserlou, Mr Moto, Wipe Out), more contemporary surf tunes (music from Jon & The Nightrider, Satan's Pilgrim), original tunes and a bit of nonsense (Theme from The Munsters TV Show, Tetris, Superhero meadley and so on). One thing is definite: you'll never get bored watching these guys playing live!
Pointebreak are Stefano Vita – Guitar,  Gavan Duffy – Drums, Mark Corry – Bass,  Pablo Caderno – Sax & Theremin
Reverbnation: https://www.reverbnation.com/pointbreak9
Facebook: https://www.facebook.com/pointbreakdublin/
Bandcamp: https://pointbreak-ie.bandcamp.com
https://www.italianfusionfestival.com/wp-content/uploads/2018/07/Pointbreak.jpg
1365
2048
IFF
https://www.italianfusionfestival.com/wp-content/uploads/2017/04/logo_italian_fusion_festival.png
IFF
2018-07-03 12:28:43
2018-07-03 12:29:46
Pointbreak