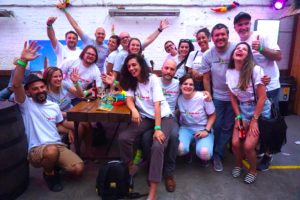 I wish to thank the audience for coming to the second edition of the Italian Fusion Festival!
This edition was very successful and we are happy about our decision to organise another edition of our festival in a bigger space with more musicians and several workshops. We sent a survey to the online ticket holders. All feedback will be taken into consideration to improve the event next year. Those who participated and would like to send their feedback can also do so by e-mailing info@italianfusionfestival.com
If you are an Italian musician/filmmaker/artist based in Ireland and you would like to partecipate to the next edition of the Italian fusion festival please contact us.
If you are business and are you interested in one of our sponsorship packages get in touch and we will be happy to assist you. Contact us also to become an Italian Fusion Festival volunteer next year.
If you wish to stay in touch and know when the early bird tickets are available, you can subscribe to the Radio Dublino newsletter where we'll announce the next year's festival edition or follow our facebook page.
We also wish to thank everyone who collaborated with us:
The six music bands Pointbreak, 
Water's Edge, 
Headtrip Acoustic Project
, Francesco Turrisi Trio
, Order of the Mess, The Stoles
The musicians Andrea Facco, Sean Whelan
The workshop coordinators Alan McGreek, Andrea Gatta, Donnacha Dwyer, Eliana Valentini
Vespa Club of Ireland
Journalists and websites that promoted our initiative
The title sponsor ENIT – Italian National Tourist Board
The event partner Italian Institute of Culture – Dublin
The food stalls Fusciardi and Sweet Sicily
Pinocchio Cookery School, Ciao Bella Roma Restaurant Pizzeria & Wine Bar, Bounceback Cafè for the Vouchers
National Bus and RailRoad Union (NBRU) for the printing support
The filmmakers who participate in the short-video competition
The Grand Social staff and sound engineers
Last but not least, I huge thank you to the volunteers for making this edition possible. This event was entirely organised with the efforts of committed volunteers who regularly volunteer the Radio Dublino community project and new volunteers who join us for this edition of the festival.
Stay in touch with us (Website, Radio Dublino, Facebook, Twitter, YouTube), the next days we are going to share our photos and videos, the name of the winners of the vouchers, the video of the short-video competition winner and more…
We look forward to seeing you next year.
Ciao
Maurizio Pittau
Festival Director

https://www.italianfusionfestival.com/wp-content/uploads/2018/07/IFF-2018-Crew.jpg
4000
6000
IFF
https://www.italianfusionfestival.com/wp-content/uploads/2017/04/logo_italian_fusion_festival.png
IFF
2018-07-09 10:32:44
2019-07-14 11:19:39
Arrivederci e Grazie