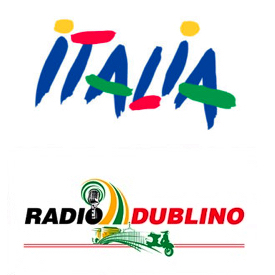 Radio Dublino and ENIT (Ente Nazionale Turismo Italiano – Italian State Tourist Board) joined forces for the 2nd edition of the Italian Fusion Festival.
Flavio Zappacosta, Head of ENIT London, commented on this partnership: "For ENIT, the Italian State Tourist Board, it is an honour and a duty to support the Italian Fusion Festival. The Italian folklore continuously merges with the Irish one and together with the organizers we want to become spokespersons of a vibrant, young Italy, a rich land that has given birth to artists appreciated all over the world. "
Maurizio Pittau, founder of Radio Dublino and Director of the Italian Fusion Festival, added: "Radio Dublin is thrilled to have the opportunity to collaborate with ENIT. Our organisations have more than one point in common since both are committed to making the Irish public aware of the complexity and diversity of Italian culture and to ensure that it is merged with the Irish one to create new and unexpected results."
ENIT is the National Tourism Agency responsible for the overseas promotion of tourism in Italy and the name sponsor of Italian Fusion Festival 2018.
https://www.italianfusionfestival.com/wp-content/uploads/2018/07/ENIT-Italian-Fusion-Festival.jpg
1183
1800
IFF
https://www.italianfusionfestival.com/wp-content/uploads/2017/04/logo_italian_fusion_festival.png
IFF
2018-07-05 14:27:41
2018-07-05 14:29:12
Radio Dublino and ENIT Joined Forces