SUNDAY 2 JULY 2017
5 PM VENUE: THE LOFT, GRAND SOCIAL, DUBLIN Miss Phoenix and The Jaffa Cakes (Jazz/Swing)
6 PM VENUE: THE LOFT, GRAND SOCIAL, DUBLINSteamFolk (Folk/Trad)
7 PM VENUE: THE LOFT, GRAND SOCIAL, DUBLINInfinitwirl (Trad Dances and Music from the South of Italy)
8 PM VENUE: THE LOFT, GRAND SOCIAL, DUBLINThe HQ's (Rock/Funk)
9 PM VENUE: THE LOFT, GRAND SOCIAL, DUBLINThe Ballad Of Adam & Eve (Country/Rock/Folk/Blues)
10 PM VENUE: THE LOFT, GRAND SOCIAL, DUBLIN Mongrel State (Rock/Folk)
---
ARTISTS
MISS PHOENIX AND THE JAFFA CAKES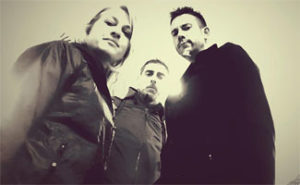 Paolo Zuddas – drums
Dario Rodighiero – piano and backing voice
Plinny Phoenix – lead singer
Miss Phoenix and The Jaffa Cakes is an original brand new band (since February 2016) based in Dublin, that turns world famous songs into different unique versions, mostly jazz, swing, blues. All the performers are Italian, two of them from the same origin. They met by coincidence in Dublin and after a jam session decided to work together.
THE JAFFA CAKES combines unique flavour and versatility, mixing different styles and genres to create their own sound.
Started as a standard jazz duet (piano and vocals), they found this new way to perform almost as a joke, but given that the result was unexpectedly remarkable, they decided to leave the standard jazz project and create THE JAFFA CAKES.
Just two instruments: Paolo Zuddas on the drums, Dario Rodighiero on the piano and backing voice, Plinny Phoenix as lead singer.
Facebook page: https://www.facebook.com/ JaffaCakesMusic/
---
THE STEAMFOLK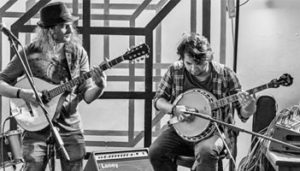 Andrea Facco – Irish tenor banjo, Greek bouzouki and vocals
Enrico "Billy" Pera – Irish bouzouki, frame drum and vocals
The SteamFolk were born in front of two pints of pale ale in Dublin town on November 24, 2015, in the pub within the hostel where the two founders were spending a short holiday.
After deciding to move to Ireland, Andrea Facco (multi-instrumentalist and songwriter with many collaborations with important names of music business behind him) and Enrico "Billy" Pera (former architect with a passion for folk muic and ethnic instruments) gave life to a project whose purpose was to revisit the Irish and Italian traditional music inheritance, adding some original and unreleased tunes and merging them together with acoustic instruments.
Facebook page: https://www.facebook.com/The-SteamFolk-1126724844005592/
---
INFINITWIRL
Traditional Dances from the South of Italy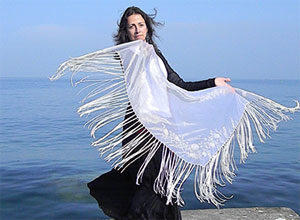 Vincenzo di Mauro – Fiddle, Diatonic Accordion, Flute, Banjo, Mandolin, Tammorra
Eliana Valentini  – Traditional Italian Tambourine from Salento, Tammorra, dance and voice.
Through the fast and energetic rhythm of Pizzica Dance (originally from Lecce area), the slow and earthy steps of Tammurriata Dance (originally from Naples), the joyful Montemaranese Carnival dance and more… we will experience the ties that link body, soul, music and earth.
Eliana has been experiencing music and dances from the South of Italy since 15 years between North and South of Italy. Several journeys in the South of Italy reawakened a particular interest in the musical rhythms connected to the ritual of tarantism. She practiced Pizzica, Tammurriata and other Tarantellas (Traditional Dances from the South of Italy) meeting the most represtative musicians and dancers of this sector.
Eliana's multicultural fusion project was born in Ireland in 2009, which for her has been a place full of creative vibrations, with the aim to reawaken in our modern society the ancient human instinct to express oneself through the movement of the body, enabling a communication without words of deep values that seems destined to disappear.
Vincenzo De Mauro is folk musician based in Galway (Ireland) where he plays Irish Traditional Music. He also plays Italian Traditional Music from the South of Italy and he is a Tammorra teacher (Italian tambourine from Naples). He is part of a band called Les Ritales playing French Traditional Music from the Centre of France and he plays also at the Breton Dance Session, once a month in Galway, Traditional Music from Brittany (North of France).
Flute maker: Simple System flutes, keyed or keyless for traditional music; One keyed Baroque flutes for classical music.
Website vdmflutes.free.fr/
Eliana Valentini teaches Italian Traditional Dances from the South of Italy in Dublin (Pizzica and tammurriata). Her creative project in Ireland called Infinitwirl includes also other dances with the aims to promote multicultural exchange, experimenting new ways to express ourselves through modern or traditional dances.
Website: www.infinitwirl.weebly.com
Facebook group: www.facebook.com/InfiniTwirl/
---
THE HQs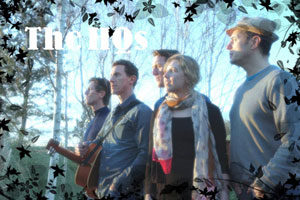 George Hughes – guitar & vocals
Mark Hughes – harmonica & vocals
Paddy Hughes – bass & vocals
Marian Hughes – keyboard and vocals
John Murphy- cajon & vocals
Special Guest: Maurizio Pittau – harmonica
The HQs are a blood harmony family folk band, consisting of siblings George, Mark, Paddy, Marian and a  brother from a different mother John. The HQ's have developed their own combination of folk blues and hillbilly funk to form a unique harmonic sound that will blow your mind…
Facebook page: www.facebook.com/thehqs/
---
BALLAD OF ADAM AND EVE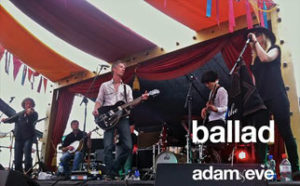 John Kenny – Drums
Alice Grollero – Bass
Scott Davis – Mandolin
Danny McCormack – Banjo
Alan Sheridan – Fiddle
Lorna McDonnell, Aine de Siun, Siun Ni Dhomhnaill – Backing Vocals
Stuart Doyle – Vocals & Electric Guitar –
Dublin musician/producer/engineer Stuart Doyle brings some country rock blues to shore with The Ballad of Adam & Eve. Currently studying guitar at BIMM Dublin, Stu has teamed up with an all female rhythm section in Italian bassist Alice Grollero and Dublin native Danni Nolan along with instrumentalists Alan Sheridan, Danny McCormack, Scott Davis and vocalists Lorna McDonnell, Áine de Siún and Siún Ní Dhomhnaill for a walk through the four Mediterranean Seas.
Stu's previous band Yukina was described by Hotpress as 'Ireland's answer to Alabama 3'. He has played with Cathy Davey, mixed Republic Of Loose, edited drums for Mundy and is a member of the Salty Dog Allstars, the classic album band who grace the Salty Dog Stage every year at the Electric Picnic.
The story of The Ballad stems from one early springtime when two boats were built in France to be delivered from French waters to Turkey. Not a luxury cruise, not a holiday. No stopping for pleasure, only to hide from bad weather and stock up on provisions.
Three Irishman on a sailing vessel they named Eve crossed the western Mediterranean into the Tyrrhenian Sea to the Aeolian Island of Lipari. Onward they travelled under an erupting Mount Etna through the Messina Straits into the Ionian and eventually crossing the Aegean Sea to the coast of Turkey.
Eve was joined by Adam on their heading east to Eden. In the Turkish port of Fethye, two identical boats awaited the worn out crews. Eve became Farceur, the jester, Adam the Bienvenu. These boats had to leave Turkish waters, headed for the company headquarters in Greece. Four thousand sea-miles, thirty five days aboard, Stu kept a journal. 'It's another world out there!'
Website: bae.ie
---
MONGREL STATE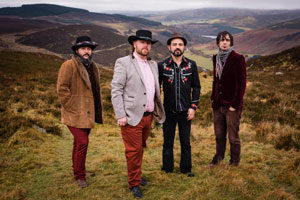 Claudio Mercante – guitar/vocals
Darren Flynn – bass/vocals
Sebastian Jezzi – drums/vocals
Guillermo Gonzalez Rodriguez – keyboards/guitar/percussion/vocals
Mongrel State is a rock'n'roll band like no other: four musicians from four countries with a shared love for stomping tunes, harmonies and cinematic sounds. Their explosive live shows are not to be missed
Mongrel State is a four-piece band from Dublin with a sound that incorporates a wide sonic palette – from Rockabilly to Rock, Latin-American grooves and Cinematic Western Scores. Aside from their unique songwriting, what really sets them apart is the fire, commitment and energy that goes into their live performances. The members come from all over (hence inspiring the "Mongrel" of their title): Claudio Mercante – guitarist and vocals, from Italy; Darren Flynn – bassist and vocals, from Ireland, Sebastian Jezzi – drummer, percussionist and vocals, from Argentina and Guillermo González Rodríguez – pianist and vocals, from Spain. They have been drawn together, almost as if by fate, each bringing with them their own individual sound, to make up a whole which is definitely more than the sum of its parts.
Website: mongrelstate.com
Facebook Page: www.facebook.com/mongrelstate
---
ITALIAN FOOD
Italian artisan food will be available to delight the palate of music enthusiasts in an informal setting where we hope people will have an opportunity to meet new and old friends.
---
VISUAL ART
Italian videos will be on the screens in the beer garden where we hope people will have an opportunity to meet new and old friends.
---
VESPA EXHIBITION
During the Italian Fusion Festival there will be an exhibition of vintage Vespas outside the venue. The iconic Italian design motorcycle will welcome music lovers in an authentic Italian atmosphere!
---
SPONSORS 2017