SUNDAY 08 JULY 2018
LINE UP
THE LOFT
4 PM VENUE: THE LOFT, GRAND SOCIAL, DUBLIN Pointbreak  (Surf Rock)
5 PM VENUE: THE LOFT, GRAND SOCIAL, DUBLIN Water's Edge  (Folk/Rock)
6 PM VENUE: THE LOFT, GRAND SOCIAL, DUBLIN Headtrip Acoustic Project (Acoustic Metal)
7 PM VENUE: THE LOFT, GRAND SOCIAL, DUBLIN Francesco Turrisi Trio (Jazz)
8 PM VENUE: THE LOFT, GRAND SOCIAL, DUBLIN Order of the Mess (Alternative Rock)
9 PM VENUE: THE LOFT, GRAND SOCIAL, DUBLIN The Stoles (Rock)
THE BALLROOM
3:30 PM VENUE: THE BALLROOM, GRAND SOCIAL, DUBLIN Alan McGreek (Workshop Irish Trad Dance)
4:30 PM VENUE: THE BALLROOM, GRAND SOCIAL, DUBLIN Andrea Gatta (Workshop The secret of Italian gestures)
5:30 PM VENUE: THE BALLROOM, GRAND SOCIAL, DUBLIN Donnacha Dwyer (Workshop Uilleann Pipe)
6:30 PM VENUE: THE BALLROOM, GRAND SOCIAL, DUBLIN Eliana Valentini (Workshop Traditional Dance from the South of Italy)
7:30 PM VENUE: THE BALLROOM, GRAND SOCIAL, DUBLIN Andrea Facco (Italian folk music)
8:30 PM VENUE: THE BALLROOM, GRAND SOCIAL, DUBLIN Sean Whelan (Irish folk music)
---
ARTISTS
POINTBREAK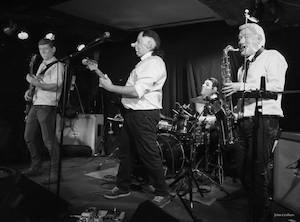 Stefano Vita – Guitar
Gavan Duffy – Drums
Mark Corry – Bass
Pablo Caderno – Sax & Theremin
Pointbreak was conceived somewhere in the strange corridors of Stefano's brain in Dublin, in the autumn of 2014. A brand new Surf Rock group paddled out into the world and took the drop.
Now, the questions are: Why Surf Rock? And what the hell is this sound?
Surf Rock is basically instrumental Rock'n'Roll – electric guitars drenched in reverb, cranked through valve amps, with a distinctive beat that has gotten people moving since the 50's. Think Dick Dale, The Ventures and Link Wray. You know it, you just might not know that you know it. The focal instrument really is guitar, and that's where the inimitable Stefano comes in. Once Gavan came on board on drums, things began moving. Adding Pablo on sax and theremin and Mark on bass, and Pointbreak really started cooking.
After the band was formed, the first gig came a few months later at the Dublin Rock'n'Roll Festival. People seemed to enjoy that twanging sound, reminiscent of Tarantino and Sergio Leone's movies. This was only another confirmation that playing surf rock was actually a brilliant idea.
After that, the band was eager to play that music for as much people as possible and they did. Fibber Magees became their second home and they've headlined at Whelan's, Sin É, Gypsy Rose, Sweeney's. How can you resist THE beat after all?!
It didn't take long until Pointbreak started writing their own songs and re-arranging some famous tunes as their own. All this material has shaped out as an EP, "Get Wet!", already available on all major platforms.
What about Pointbreak shows? Their live show is a raucous blend of soaking wet, twangy Fender guitars, screaming sax and a pulsating rhythm on the drums that will have everybody up and dancing. The setlist is a mix of classic surf rock tunes from the '60s (Walk don't run, Surf Rider, Miserlou, Mr Moto, Wipe Out), more contemporary surf tunes (music from Jon & The Nightrider, Satan's Pilgrim), original tunes and a bit of nonsense (Theme from The Munsters TV Show, Tetris, Superhero meadley and so on). One thing is definite: you'll never get bored watching these guys playing live!
Reverbnation: https://www.reverbnation.com/pointbreak9
Facebook: https://www.facebook.com/pointbreakdublin/
Bandcamp: https://pointbreak-ie.bandcamp.com
---
WATER"S EDGE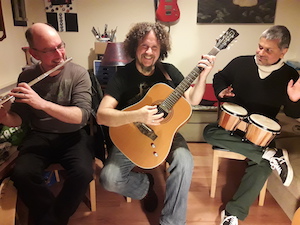 Ciaran Smithfield: Vocals/Guitar/Flaute
Onofrio 'Chiko' America: Guitars
Ashish: Drum
Water's Edge (Ireland) is a group of 3 friends who come from 3 corners of the world very far from each other: Ciaran is the leader who with his beautiful voice and his ease in playing guitar, saxophone and drums created Water's Edge in the '80s. Three years ago Onofrio, the Italian of the group began his adventure as a solo guitarist of the group bringing some interesting rhythmic changes and sounds to Water's Edge. As a duo they have performed at various concerts and radio programs including Radio Dublino and Spirit Radio where they are regular guests. This year they opened the doors to a new friend, Ashih. Ashish is from New Delhi, India. With his unique and professional music knowledge he has brought more changes to what was already an experimental hectic ensemble.
The style of Water's Edge is unique for the simple reason that they are writing original pieces in which they use Italian, Irish and Indian instruments, creating very interesting compositions or renovating some covers adding special sounds and rhythms.
Facebook: https://www.facebook.com/pg/WatersEdgeIRL/
---
HEADTRIP ACOUSTIC PROJECT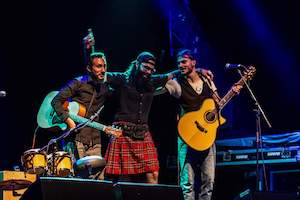 Zar (Vocal and Guitar)
Giovanni Agostini(Vocal and Guitar),
Niccolò Matterazzo(Vocal and Percussions)
Headtrip Acoustic Project is a trio of two acoustic guitars mixing lap tapping and fingerstyle + one cajon and various percussive elements.
Facebook: https://www.facebook.com/pg/HeadtripAcousticProject/
---
FRANCESCO TURRISI TRIO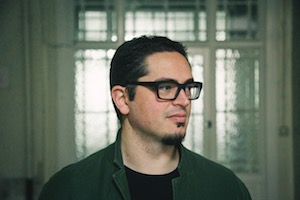 Francesco Turrisi: Accordion
Julien Colarossi: Guitar
Barry Donohue: Bass
If a musician is defined by the company he keeps then it is little wonder that Italian pianist Francesco Turrisi skirts facile categorization. The Turin-born, Dublin-based pianist and multi-instrumentalist has played with former Miles Davis reedsman Dave Liebman, flamenco icon Pepe El Habichuela, kaval player Theodosii Spassov and singer extraordinaire Maria Pia de Vito. He is equally at home playing with jazz veteran Gianluigi Trovesi as he is with Irish sean-nós singer Roisin El Safty and with tarantella specialist Lucilla Galeazzi. Turrisi has toured with Bobby McFerrin, interpreted the music of Steve Reich with Bang on a Can All Stars and, since 2004, has been a core member of celebrated early music ensemble L' Arpeggiata. And at heart, he is a jazz improviser.
Turrisi, it's safe to say, is a musical polyglot par excellence and it's natural that he feels at home in multiple musical settings for his vocabulary is a colorful weave of early music, pan-Mediterranean modal melodies and European flavored jazz.
In spite of his numerous collaborations it's as a leader that Turrisi has earned his spurs. His four beautifully crafted solo albums and two co-led releases have garnered widespread critical acclaim.
"His ability to rework ancient melodies and rhythms through a contemporary jazz prism marks him out as one of the most striking voices to have emerged on the European jazz scene in the past decade". Ian Patterson – All About Jazz\
Website: http://www.francescoturrisi.com/
---
ORDER OF THE MESS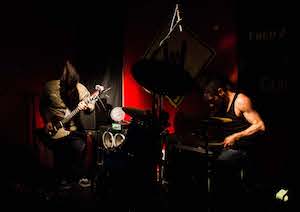 Alessandro "TheLast" Vinci – guitar/amps
Massimo "Maxeggio" Calò – drums
Order Of The Mess are an alternative/stoner-rock power duo formed in 2013 by Alex (guitar/voice) and Max(drums) and hailing from Cork, Ireland.
With Alex also taking care of punishing low frequencies through a three amps set-up and Max providing thunderous skins work, the duo early on hit on a distinctive sound and set on to write. They soon started making the rounds playing live everywhere they could. Every performance saw them winning over more and more appreciation as their mix of melody, groove and enormous riffs truly comes to life on stage through the duo earnest, give-all-you-have energetic attitude and Alex passionate, larger-then-life stage presence.
In 2016 they locked themselves for a week in the historic Dublin's Westland Studios to record their debut album, set to be released in early 2018.
"Life is to Love.Life is to Rock. Rock is to Love"
Website: http://orderofthemess.com/
---
THE STOLES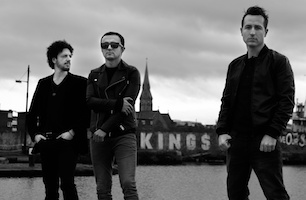 Antonio: Vocals/Bass
Andrea: Guitar/Vocals
Ciaran: Drums/Vocals
Since forming in 2015, the preceding years have proven very eventful for the band. 2016 started with the band writing and recording their debut album and ended with them signing a record deal with the largest independent record label in North America – Spectra Music Group. Following on from signing with Spectra The Stoles released their first single from their forthcoming debut album 'Age Of Deception' in February 2017. The single (titled 'Getaway') was released throughout Europe and America and received great reviews and mainstream radio play.
In support of 'Getaway' The Stoles launched an Irish tour which seen them play in some of Ireland's most renowned venues for upcoming bands. Following on from that successful tour, and to coincide with the July 2017 release of their second single 'Evelyn', the band announced a further series of summer gigs in a select few venues throughout Ireland. This run of gigs also seen the band play at the Galway Fringe Festival.
In December 2017 The Stoles released 'Age Of Deception' – the third single and title track from their forthcoming debut album 'Age Of Deception'.
The Stoles debut album wasreleased on February 9th, 2018, with Irish and European tour dates expected to be announced.
Website: http://www.thestoles.com/
---
ALAN MCGREEK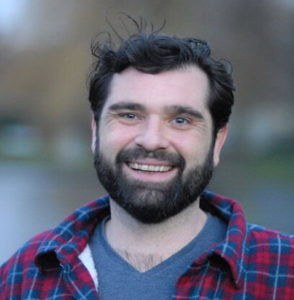 The Trad Rocks Ceili is an extremely fun, energised and interactive workshop on the group form of Irish (and Scottish) traditional dancing, popularly known as Ceili Dancing. With the help of your ceili caller 'An Fhear An Ti' (- Irish for 'Man of the House') you will learn all about how this form of dancing, which surprisingly is only about 100 years old, went from country house to Ceili house! With the meteoric rise of Riverdance, we'll see how this traditional art has adapted to find its place in a contemporary world! Of course it wouldn't be Irish dancing if this workshop was all talk so we have adapted a few Irish dancing 'sets' to make them easy and fun for anyone of any age or culture to learn in an informal environment. You'll find out all about the counting the beats and finding your steps to match the music which will be performed live for you while you 'step it out'! You'll need all the vitality you can muster for this exciting and cheerful lesson in music and dance.
AN FHEAR AN TI (Man of the House – the caller of the steps)
The Fhear an Ti for the workshop is Alan Mac. Essentially, he is the man in the middle and he helps you learn the beats and steps of the dances. Alan is a popular musician in the Irish Traditional music circuit of the Dublin area and has be also calling ceilis for over 10 years. His experience in calling the steps of the dance has enabled him to adapt and construct a workshop suitable for all ages and backgrounds, and his knowledge of the traditional Irish music scene makes this workshop both interactive and informative.
---
MOTHER TONGUES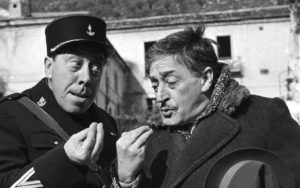 The secret of Italian gestures Workshop
Did you ever wonder why Italians gesture so often? If you want to truly learn the Italian language and culture you need to also understand facial expressions, gestures and body language. Do you want to give it a go? Then this workshop is for you!
Join Mother Tongues in a celebration of the Italian culture through the gestures that make our conversations so special. We will draw on examples from films that have made the history of Italian cinema, and we will learn together the meaning of these gestures. No need to be fluent in Italian! All you need is an interest in the Italian language and the bravery to try out some funny faces.Workshop coordinator: Andrea Gatta.
The aim of the workshop is to study the pivotal role of gestures and body language in the evolution of Italian culture (from the 1930th to now) in cinema. The public will direct an actress, trying to answer a series of questions: gestures as a mean of expression are key to understand a director's artistic vision of society and reality. We will reflect on the choices of Italian directors.
---
DONNACHA DWYER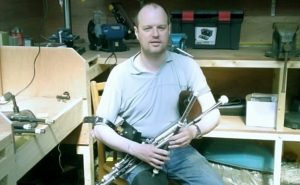 Donnacha Dwyer began playing the pipes in Na Píobairí Uilleann in the late 1980s where he was thought by Martin Nolan and John Murphy. By the mid '90s he began to be influenced by recordings of Seamus Ennis, Willie Clancy, Leo Rowsome and Liam O'Flynn.
It was also in the mid '90s where he began performing on the pipes and took a keen interest in reed and pipe making and began to study pipe-making, part-time initially with pipe maker Des Seery. Later he received an Arts Council grant to study pipe-making full time and has been a full time pipe-maker since 2008.
He has been a teacher in Henrietta Street for a number of years on Tueaday nights and has also thought a number of courses through NPU's PipeCraft initiative.
In 2006 he released an album with fiddle player Malachy Bourke entitled "Bourke and Dwyer".
He plays a D and a C set, both made by himself.
Website: http://www.donnachadwyer.com/
---
ELIANA VALENTINI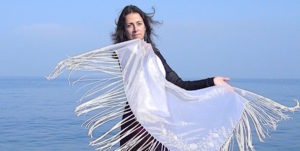 The Pizzica is a dance for couples which forms part of the Popular Italian Tradition of the South.
It is linked to the therapeutic ritual of TARANTISMO, which started and thrived in the geographical area amongst the three towns of BARI, TARANTO and LECCE.
The TARANTISMO ritual was focused on the power of music to aid in the healing of  physical and psychological disease during the Medieval Age, but its origins go back even further in time.
During the intervening centuries it became a social phenomenon that evolved into a dance for couples called PIZZICA PIZZICA. By the 1970's the TARANTISMO ritual had died out. However a new movement arose to rediscover this traditional music and dance and this has generated both national and international interest.
A new generation has grown up in a modern social context and is reinterpreting the ancient tradition that today is known as NEO-PIZZICA.
To excavate the depths of this tradition it is necessary to study the original historical documents and written testimonies of those who lived and witnessed the magical and pseudo-scientific aspects of the "Aracnideo Myth " (the original spider rituals and social events).
WORKSHOP
We are going to pass on the history and meaning of these dance through our personal experience and passion for them. We are hoping to give a greater awareness of these dances which today are part of a living tradition in the South of  Italy and can be experienced at first hand in festivals and celebrations by any interested traveller.
Website: https://infinitwirl.weebly.com/
---
ANDREA FACCO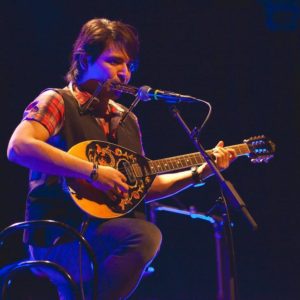 Andrea Facco is singer-songwriter from Genoa, Italy. At the age of nine, he began to cultivate his passion for music by taking the first guitar lessons with Giorgio Falco. Search artistically grows with the teachings of Katzumi Nagaoka, Armando Corsi and Gianni Martini. Thanks to which thirteen years he began to compose his own songs (music and lyrics). Parallel to the guitar he engages in the self-taught study of ethnic and ancient instruments. Among them: the Oud, the Lute and the Bouzouki, which became his favorite instrument.
Website: http://www.andreafacco.it/
---
SEAN WHELAN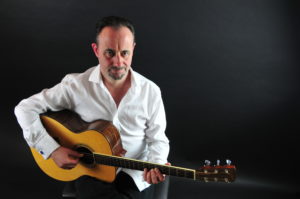 Seán Whelan is a guitarist/mandolin player and producer working in the Jazz, Celtic and World music arena and is much in demand as both a studio and live musician.
Seán has established himself as a forerunner in Acoustic music by the passion, creativity and versatility of his playing.
He performs solo and also in a group setting. A former member of Swing Jazz group"Hotfoot"and "The Café Orchestra"Seán Whelan has performed and recorded in a wide range of styles including Folk,Jazz,Blues,Irish Traditional and World music. He has released two solo albums and his latest "From Gray to Blue"cd features many of his own compositions as solo pieces and also with a talented group of international and Irish players.
His music has been used for TV and Film productions. As a member of "Puck Fair"he has played with Flautist Brian Dunning for many years and has toured and recorded with singers and instrumentalists worldwide in an exciting and varied career.
Website: www.seanwhelan.com
---
ITALIAN FOOD
Italian artisan food will be available to delight the palate of music enthusiasts in an informal setting where we hope people will have an opportunity to meet new and old friends.
---
VISUAL ART
VISUAL ART
The Italian Fusion Festival – Short Film Competition
Encounters-Incontri | Unexpected casual meetings of cultures
The Italian Fusion Short Film Festival is a short-film competition organised by Radio Dublino as integral part of The Italian Fusion Festival.
The aim is to offer a spotlight to film-makers in town ready to showcase their works.
The short movies will focus on the meeting of different cultures.
The idea can be conveyed through a wide range of story lines expressing the unexpected and casual nature that meetings of this type tend to have.
The length of the short movies can be up to 10 minutes.
The registration period will be open from now to the 16th of June 2018.
The jury will select the finalists during the month of June and on the 8th July the spectators will be able to watch the short-movies during The Italian Fusion Festival in the Grand Social, Dublin.
The winner will be announced during the event and will be awarded with a plaque and a small cash prize.
The finalists' works will be spread through different platforms, such as the webpage and the social networks.
---
VESPA EXHIBITION
During the Italian Fusion Festival there will be an exhibition of vintage Vespas outside the venue. The iconic Italian design motorcycle will welcome music lovers in an authentic Italian atmosphere!
---
SPONSORS 2018